Before I dive into this blog I am excited to announce that The Scottish Rider has placed in the Top 100 Equestrian blogs on feedspot! Yay!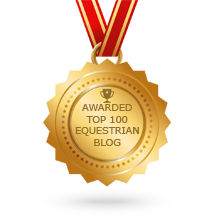 Also in other blog news, I have decided to start posting once a week every Friday. This way I can focus on fuller posts and higher quality posts, I also have a vlog or two planned for my youtube channel as well. The non-horsey partner will be a series which we are hoping will be every month or so, we have been together for a long time and he has known Eva ever since I bought her so I'm sure he has a lot to talk about.
Now for the blog…
---
The festive period is a great opportunity to give your horse a break. May it be a whole 2/3 months or 2 weeks it is entirely your choice but giving them some sort of break over this period benefits them as well as you. We all need a rest to recharge and doing it in the winter months while the days are short, dark and cold is an ideal opportunity.
Now that we have eaten our fill and made promises about what we are "defiantly going to do" this year its time to put that into action and start bringing the horses back into work. Being an equestrian I often think that we are almost out of winter come the middle of January when in actual fact winter does not end until the 20th of March! This is mainly because after the winter solstice the nights start getting lighter so I am no longer going to, and leaving, work in the dark.
After the new year it tends to be time to start bringing your horse back to work. It is important not to rush and if you plan ahead you should have plenty of time to get your horse back in full work before you go out to anything. When I bring Eva back to work I will lunge first letting Eva stretch and start to get this whole working horse idea back into her head and so that not Eva is not going from a free wild field ornament, which she very quickly reverts to, to a bunched up tight stress ball.
Once I start riding again I will slowly add more poles before jumping so that she will be almost in full work before we jump. Although if I don't put a jump in front of Eva for too long as soon as we do turn up to a jump she fires straight towards it in excitement.
This time of year I tend to give Eva a good tidy up as well. Her mane and tail are needing a good seeing to or else the draught part of her breeding really starts to become apparent! Not that I have anything against draughts but she is suppose to be an Irish sports horse.
Motivation is simultaneously at its lowest and highest at this time of year especially for us equestrians. We have the new year and new goals set for us but we also have the routine of work/horse/life balance to start juggling again which is an effort in itself.
Personally I buy a calendar – a cheap one – and sit down to plan my month out. Then Use different coloured highlighters to show the dates for horses/work/life. If it gets messy thats fine but it is a good way to visualise the things I have planned. Lets say there is a dressage test early next month, write down when the entries close and when you need to start practicing for that test. You can then plan ahead and pencil in certain things like when are you going to sit that industry exam that you have been putting off for ages *cough*, ok so that maybe only applies to me but personally I need to give myself a hard deadline or else its not getting done. I also plan roughly the days that Im thinking on taking off of work so that I feel like I am using my holidays wisely and wont get to the end of the year and be kicking myself because I have none left.
Simple tasks like this, I find, clears your mind so that you can focus on one thing at a time an not feel overwhelmed with all those promises you have made.
And remember to give yourself a break. Its ok to hide in a corner every now and then and not be up for having a hard work out.